Smoked Corned Beef: Pellet Grill Recipe
This St. Patrick's day step up your game with this smoked Corned Beef Brisket recipe. Follow these steps for perfect corned beef every time. Using a Pellet grill to smoke Corned Beef is the best way to guarantee perfectly cooked corned beef every time.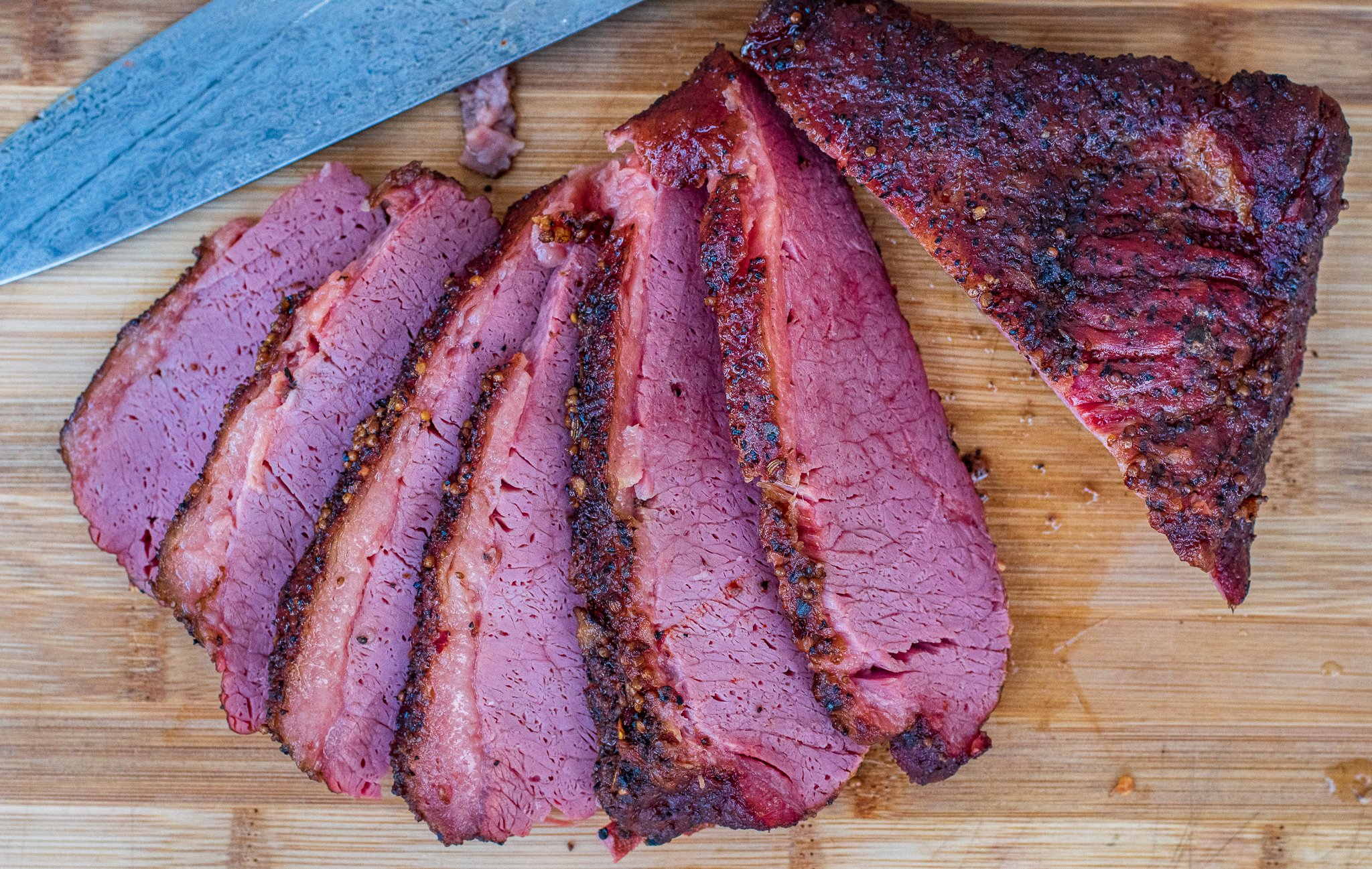 Why Smoke Corned Beef?

If you're like me then you would agree everything tastes better with a kiss of smoke. Corned beef is no different. Smoked corned beef has all the familiar flavors of traditional corned beef but with a little extra flavor that only comes from using a pellet grill or smoker.
Using a pellet grill to make smoked corned beef is so easy because you can put in your temperature probe and go about your day. No worrying about adding logs to the fire or constantly opening the smoker to check temps. The old saying is definitely true "If you're lookin' it ain't Cookin". I personally own the Rec Tec 700. In my opinion there is not a better pellet grill on the market. Any pellet grill will work but this is the one I recommend if you're in the market.
My Top 5 Favorite Pellet Blends
What to look for when buying Corned Beef.

Most people prefer a corned beef brisket that is fairly lean and slices into uniform cuts. At most grocery stores you will find 3-6 pound brisket portions that have been trimmed down from a much larger piece. This makes it a lot easier to cook because it requires almost zero trimming ahead of time. The only trimming I recommend is if you see any oddly shaped pieces hanging off or a hunk of fat that wasn't removed.
When looking for a brisket at the store look at the bottom of the brisket in the packaging. It should look lean with a thin fat cap. It should be flat and squared off. If the corned beef looks like a rounded misshaped hunk of meat it will cook and slice unevenly. Depending on how many portions you will need will determine how large a section to buy.
If buying and smoking multiple pieces try to buy similar sized pieces so they cook in roughly the same amount of time. Also remember that you will lose about 40% I total weight after the corned beef is fully cooked. My 3 lb hunk of brisket ended up weighing in at 1 pound 10 ounces when I pulled it off the smoker. I recommend a least 6-8oz of cooked brisket per person so factor that in when figuring out how much to buy. Keep in mind leftover smoked corned beef is never a bad thing because there are so many things you can make with the leftovers.
What to serve with Smoked Corned Beef??

Obviously cabbage is the first thing people think of to serve along with corned beef. I have a great recipe for butter roasted Everything but the bagel cabbage wedges that are one of my favorite cabbage recipes. Potatoes are not your friend if you're keto but you can always substitute my Cauliflower Colcannon. I would also recommend my Jameson Mustard Glaze that I serve over pork chops normally but are a fantastic sweet contrast to the smoky salty corned beef.
How to slice Corned Beef

When using small sections of a whole brisket it can be a little tricky on what direction to slice the corned beef. You want to slice across the grains of the beef others you will have stringy slices of meat. The best way is to turn the corned beef upside down on the lean side to see which direction the grains are heading on the brisket. Then flip it back over and make ⅛ inch thick slices. Feel free to cut then thicker if you feel the brisket crumbling or thinner if you feel like the smoked corned beef isn't as tender as you would like. Make sure to have a sharp knife and always let the brisket rest for at least 30 minutes before slicing.
A few last tips for smoked corned beef

Once the smoked corned beef has reached about 170 degrees F you may hit a stall. The beef temperature seems to get stuck and stays the same temperature for a while. This is the temperature where the connective fibers in the meat start breaking down. To help push through this phase I place the corned beef into aluminum pans and pour about ½ a beer…The rest you'll have to dispose of on your own…wink wink! Cover the aluminum pan with foil but it doesn't need to be sealed tightly. This will help the meat push through the stall and finish cooking. Plus the beer along with the natural juices from the brisket will collect to make a great au jus. This will keep the sliced corned beef moist after it's fully cooked.
There is no magic time or temperature when smoking corned beef. It's all about the feel. You should always have an instant read thermometer that will not only let you know the internal temperature of the brisket but it will also act as a probe to check the tenderness of the meat. Once the brisket has reached about 200-205 degrees F. It's time to start checking for tenderness. Poke the brisket with the probe in different places to see how tender the meat is. If the brisket feels tough then you need to keep cooking but if the probe slides in with very little effort you know it's done. Make sure to let the corned beef rest in the aluminum pan covered with foil for at least 30 minutes. Open one corner of the pan just a little to let the steam out so the brisket doesn't overcook.
More Pellet Grill Recipes
---
Smoked Corned Beef
Ingredients
6

lb

Corned Beef Brisket

Raw

2

tbsp

Black Pepper

8

oz

Light Beer
Instructions
Set your Pellet Grill to 275 Degrees F.

Cut open packaging of corned beef and drain off liquid. be sure to grab the spice packet included with the brisket. gently rinse off corned beef and then pat dry with a paper towel.

Open the spice packet included with your corned beef and sprinkle contents over the brisket. then sprinkle a light dusting of black pepper. you can use as little or as much black pepper as you like.

Once Pellet grill has reached temperature insert probes into corned beef brisket pieces. if you only have a single probe place that probe in the center of the smallest piece because it will cook the fastest.

Smoke for 3-4 hrs until corned beef reaches an internal temperature of 175 degrees f. Next transfer briskets to a aluminum pan and pour just enough beer in to cover the bottom of the pan. Cover with foil leaving one corner open to let out steam.

continue cooking for another 2-3 hours until internal temperature reaches about 205 degrees F. Use an instant read thermometer and poke different parts of the brisket checking for tenderness. If probe goes into the meat with vwry little tension than it is done. If not continue cooking until tender.

Once meat is tender and fully cooked remove pan from pellet grill and let the corned beef rest for about 30 minutes still covered with one corner open to prevent overcooking.

Slice corned beef into 1/8 inch slices cutting against the grains of the brisket. if brisket crumbles make slices a little thicker. if meat seems tough then cut thinner slices.
Nutrition
Serving:
7
oz
|
Calories:
410
kcal
|
Carbohydrates:
2
g
|
Protein:
40
g
|
Fat:
41
g
|
Saturated Fat:
13
g
|
Cholesterol:
147
mg
|
Sodium:
3313
mg
|
Potassium:
829
mg
|
Fiber:
1
g
|
Sugar:
1
g
|
Vitamin A:
7
IU
|
Vitamin C:
73
mg
|
Calcium:
24
mg
|
Iron:
5
mg
---
Nutrition Facts
Smoked Corned Beef
Amount Per Serving (7 oz)
Calories 410
Calories from Fat 369
% Daily Value*
Fat 41g63%
Cholesterol 147mg49%
Sodium 3313mg144%
Potassium 829mg24%
Carbohydrates 2g1%
Protein 40g80%
Vitamin A 7IU0%
Vitamin C 73mg88%
Calcium 24mg2%
Iron 5mg28%
* Percent Daily Values are based on a 2000 calorie diet.
---
The post Smoked Corned Beef: Pellet Grill Recipe appeared first on Grilling 24×7.
This cook was years in the making. Inspired by cooks from @CPARKTX2 and @The Cen-Tex Smoker many many moons ago, I've had yakitori and onigiri on my mind,  for far too long. So, I dusted off The Japanese Grill book, checked out some other recipes, and got to work.
Onigiri, with miso butter.
Chix thighs with scallions, glazed with the yakitori sauce from The Japanese Grill book. Drumsticks glazed with an orange, soy sauce, yuzu kosho sauce. 
Shisito peppers, cherry 'maters.
Had a decent spread…  from bottom left – yakitori chix, 'maters, orange-soy-yuzu legs, shisito pepepers, 'shrooms with bacon.
All chased with a fair bit of sake
What a great meal! Relatively simple cook (the prep takes a little time), and the payoff is yuge. Would have eaten a bit earlier if I had fired up another cooker or two, but… lazy.
Caliqueen agreed that we need to do this more often. But, that may have been the sake talking.
By: caliking
Title: Japanese Grill night
Sourced From: eggheadforum.com/discussion/1228377/japanese-grill-night
Published Date: 07/25/21
Did you miss our previous article…
https://amazinghamburger.com/outdoor-cooking/ribs-take-wing/
How to Cook Over a Campfire
"To poke a wood fire is more solid enjoyment than almost anything else in the world."
Charles Dudley Warner
19th Century American Writer
Feeding yourself and other people during an outdoor adventure can be one of the most gratifying experiences of your culinary life. Whether you're a car or RV camper, backpacker, biker, boater, or weekend hiker, you can eat exceedingly well. Food always tastes better when cooked over a campfire and seasoned with the Great Outdoors!
However, cooking and/or grilling under primitive conditions can be stressful if you don't have a plan.
For starters, learn how to light a fire with a minimum of tools. If you own a charcoal- or wood-burning grill, you can practice at home, igniting tinder and adding subsequently larger pieces of fuel. (Click here for more specific directions.) If you are one of those gifted people who can make fire using flint or a bow drill, I salute you. The rest of us must rely on less romantic methods, i.e., matches. (I prefer the long-handled wooden kind.)
An ideal cooking fire has burned down to glowing, white hot embers. Allow plenty of time for this to happen—at least an hour, or maybe two. Burn additional wood on one side of your fire so you can harvest fresh coals for cooking. Neutralize potentially "hangry" appetites by offering no-cook appetizers like an easy charcuterie platter or pre-packaged snacks in advance of the meal.
Equipment: What You'll Need
Space, weight, and your method of transportation into the backwoods will determine what your batterie de cuisine will look like. At a minimum, you'll need:
A source of flame, whether it be matches or a butane lighter (bring more than one, and make sure they have a full load of butane)
Grill gloves
At least one skillet or saucepan large enough to cook for your group. If weight isn't a concern, a lidded Dutch oven can be an asset, especially if it's accompanied by a tri-pod.
A grill grate, preferably one that is supported by legs, or one that can rest on top of stones or green logs. Alternatively, angle similarly-sized green logs around the coals; they act as an impromptu grate.
Long-handled tongs
A long-handled spoon or spatula
Heavy-duty foil
Skewers or green sticks carved to a point for grilling meat or kebabs
Headlamp for late evening/early morning cooking
Flexible plastic cutting boards to use as clean work surfaces or for slicing
Sharp knife, preferably one reserved for food preparation
How to Manage Your Fire
Most campfire cooking utilizes direct grilling, i.e., food is exposed directly to the heat. Think burgers, hot dogs, whole fish, or kebabs. You can, however, approximate indirect grilling by angling food toward the fire on sticks or stakes, a method long used by the indigenous people of the American Northwest to cook salmon or other fish, or by moving your food to a cooler part of the fire and covering it with foil or a deep pot lid. You can create a multi-tier fire in the wild just as you can at home by raking the coals to different depths. (Always cook over mature embers and avoid active flames.)
If using a grill grate, allow it to heat up before adding food, especially stick-prone food like fish. (We like to pack a leak-proof bottle of olive oil or other cooking oil.) Flames can be tamed by raking out the coals or topping them with a layer of ash or dirt. Conversely, fanning the coals will increase their heat.
What to Cook
For me, the penultimate backwoods meal is fresh line-caught trout dredged in cornmeal and cooked in a cast-iron skillet by the Gallatin River. But the trout don't always cooperate. So it's a good idea to have ingredients on hand for "Plan B."
Here are several options, from appetizers to dessert. (Note: Do as much prep work as you can at home before heading into the wilderness.)
Toast slices of country-style bread, rub each with a raw clove of garlic, and drizzle with extra virgin olive oil. Sprinkle with dried Italian seasoning or grated aged cheese, such as Manchego or Parmigiano-Reggiano.
Plank-Smoked Camembert: This recipe, always a favorite, is easily adapted to a campfire. You could even cook it on a hot stone near the fire.
Grilled Sangria: You've heard of "glamping," privileged camping? This libation will set the stage.
Grilled Eggs with Prosciutto and Parmesan: So satisfying, you'll want to repair to your tent or RV for a snooze before pursuing the day's adventures.
Top prepared pizza crusts or Boboli breads with your favorite toppings and warm over a campfire until the cheese melts.
Grilled Prosciutto-Wrapped Trout: Remember Steven's first show, BBQ University? It was shot on the banks of a stream, where our cameramen fished for golden trout when they weren't working. Steven spontaneously added trout wrapped with prosciutto to the day's menu. Genius!
Spruce-Grilled Steaks: An unexpected seasoning flavors these wood-grilled steaks.
Dessert Quesadillas: We love s'mores, of course, but like to mix it up sometimes. Prepare these delectable quesadillas directly on the grill grate or in a cast iron skillet.
The post How to Cook Over a Campfire appeared first on Barbecuebible.com.
By: Daniel
Title: How to Cook Over a Campfire
Sourced From: barbecuebible.com/2021/07/13/how-to-cook-over-a-campfire/
Published Date: 07/13/21
For the Best July Yet, 8 Great Recipes for the Grill
There's no better month than July in North America to grill or smoke. With Independence Day entertaining now in the rear-view mirror, you can now focus on what you want to grill, whether it be a Beer Can Breakfast Burger for your fishing or camping buddies, fiery Nashville Hot Wings for a tailgate party, or Grilled Key Lime Mojitos and Jamaican Jerk Chicken for an authentic Caribbean blow-out. Make this a month to remember.
Beer-Can Breakfast Burgers
Savory pork, bacon, eggs, and cheese on an English muffin—this high-energy breakfast will fuel summer adventures for hours. They'll be a hit in your back yard or at your campsite.
Get The Recipe »
Double-Grilled Summer Vegetable Frittata
Perfect for a weekend brunch or a weeknight dinner, this frittata features an array of grilled fresh vegetables that can change depending on what's in season. Add meat, if desired—ham, cooked bacon, or chorizo or other sausage.
Get The Recipe »
Nashville Hot Wings
Incendiary Nashville Hot Chicken "takes wing" in this live fire interpretation. The wings get a double blast of heat from hot red pepper flakes and a cayenne-inflected baste. Said to be invented by a woman eager to take revenge on her tomcatting partner, her plan to turn his favorite fried chicken into a fiery weapon failed when he unexpectedly loved the very spicy chicken.
Get The Recipe »
Grilled Key Lime Mojitos
One theory about the origins of mojitos is that indigenous South American peoples made a medicinal concoction from limes, mint, and fermented sugar cane. Although a Havana bar disputes that. In any case, Steven's version of a mojito, made with charred sugared limes, mint, rum, and club soda, will cure whatever ails you. Ernest Hemingway would approve.
Get The Recipe »
Cherry-Smoked Strip Steak with Cutting Board Sauce
If mastering the reverse-sear method of cooking thicker slabs of meat is on your bucket list this month, start with this recipe. (If you're unacquainted with the technique, it involves a low and slow smoke with wood chips or chunks followed by a quick sear.) New York chef Adam Perry Lang gets the credit for developing this easy complementary board sauce using chiles, herbs, and meat juices.
Get The Recipe »
Jamaican Jerk Chicken
Were you aware that spicy foods actually help a body handle heat by causing it to perspire? Just look at the repertoire of hot foods in the world; they're mostly from the steamier latitudes. Take Jamaican Jerk Chicken, for example. Steven's version is super-authentic. Cooked over pimento wood (or alternatives), it's a reason to party. Find pimento wood here.
Get The Recipe »
Grilled Swordfish Steaks with Golden Raisin Chimichurri
Line-caught swordfish is a summer staple in the Raichlen household. Though often served with grill-blistered cherry tomatoes and a green salad, Steven likes to mix things up by serving this meaty fish with a jewel-like chimichurri and golden raisins. Dinner party worthy? Hell, yes.
Get The Recipe »
Smoky Bourbon Peach Cobbler
This recipe, which came from our friend Russ Faulk, chief designer at Kalamazoo Gourmet, combines two Southern barbecue staples—fresh Georgia peaches and pecan wood. Ooops. Did we mention bourbon? Cooked in a cast iron skillet, it is a sublime example of cobbler and will wow summer guests. We've even been guilty of adding slivers of bacon to the filling. For more of Russ's recipes, check out his book Food + Fire.
Get The Recipe »
The post For the Best July Yet, 8 Great Recipes for the Grill appeared first on Barbecuebible.com.
Homepage Feature,Recipes,July Recipes,summer
By: Daniel
Title: For the Best July Yet, 8 Great Recipes for the Grill
Sourced From: barbecuebible.com/2021/07/06/8-recipes-for-the-grill-in-july/
Published Date: 07/06/21
Did you miss our previous article…
https://amazinghamburger.com/outdoor-cooking/pork-belly-burnt-ends/