Sheet Pan Everything Cabbage
This recipe for Sheet Pan Everything Cabbage is a fantastic easy to make side dish that will convert even the biggest cabbage haters. Buttery Roasted Cabbage with Everything but the bagel seasoning brings out the natural sweetness in the cabbage. Great for St. Paddy's but I bet you'll be making this recipe more than just once a year.
Giving Cabbage the Respect it Deserves.
When preparing corned beef and cabbage the cabbage always takes a back seat. It's always mushy overcooked slop while the potatoes and corned beef are just right. This recipe gives cabbage the respect it truly deserves by cooking it separately and treating it with care. This sheet pan everything cabbage recipe is quick and easy to prepare so its great when you're looking for a simple side dish or a St. Paddy's Day Side that will blow everyone away.
How to prep the cabbage.

When cutting the head of cabbage the goal is to end up with 8 equal wedges that each have the stem attached to hold the wedge together. If you have a smaller head of cabbage you may only cut the wedges into 4-6 portions. Start by removing any loose dark colored leaves and give the cabbage a rinse. After washing the cabbage be sure to pay it dry before slicing. I always start with the stem pointed straight up and cut the head in half slicing straight through the center. Next I cut each half into quarters. Finally taking each quarter and slicing those wedges in half for a total of 8 equal pieces.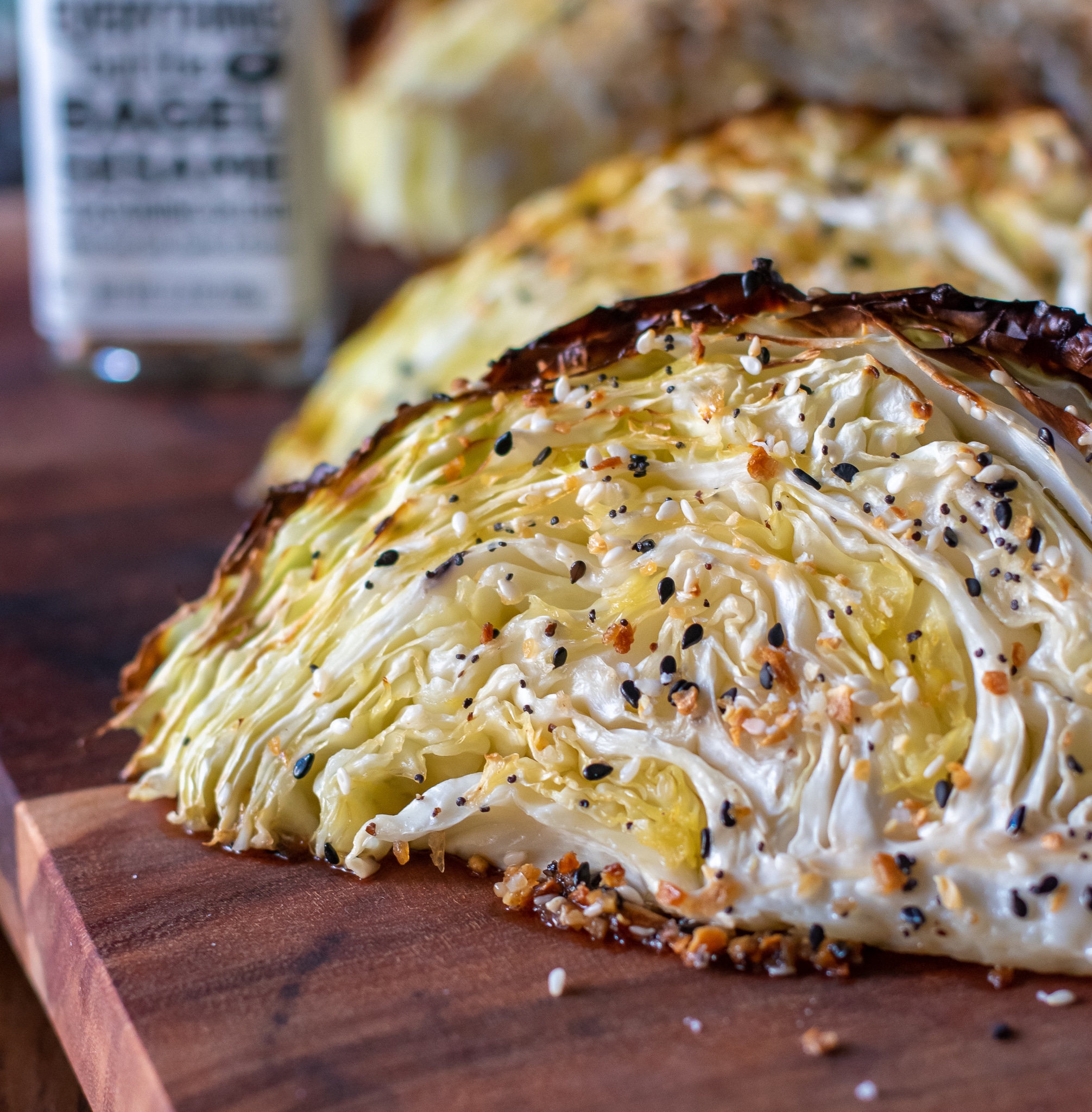 Seasoning the Cabbage

After the cabbage is cut and portioned it's time to season. I like to take the butter out ahead of time so it is soft and easily spread over the cabbage wedges. I try to brush both sides of the wedges with butter so when they roast in the oven the butter will caramelize the cabbage on both sides. The butter also helps the everything bagel seasoning to attach to the cabbage.
This recipe could also be done on the grill for a charred flavor element. I would grill on both sides until I got a good sear then rotate to indirect heat until the cabbage was tender. Sadly on the day I prepared this recipe it was raining and I didn't feel like dealing with that. Both methods work great and it's a fantastic side dish to go with more than just corned beef.
How Make Your Own Everything Bagel Seasoning
Ingredients:
Instructions:
Place all ingredients into a dry clean mason jar and shake to combine. Seal tightly and store for up to 6 months in a cool dry place
More St. Paddy's Day Themed Recipes
---
Sheet Pan Everything Cabbage
Ingredients
1

Head

Cabbage

1/2

stick

Butter

Softened

2

tbsp

Avocado Oil
Instructions
Peel off outer green leaves of the cabbage. Cut cabbage in half making sure to evenly cut the stem. Then cut each half into 4 half moon shaped pieces trying to have a piece of stem attached to each piece for a total of 8 portions.

Preheat the oven for 425 degrees F. Melt butter in the microwave then brush both sides of the cabbage then season with everything but the bagel seasoning.

Brush avocado oil on sheet pan then place cabbage onto the sheet pan. Bake for 25-30 minutes. Test cabbage by poking the stem with a paring knife. If the cabbage feels tender then its done, If it still feels raw continue cooking until tender.

Place cabbage wedges onto a serving tray and pour over leftover butter from sheet pan.
Notes
Serving size 1/8th Head of cabbage
Nutrition
Calories:
117
kcal
|
Carbohydrates:
7
g
|
Protein:
2
g
|
Fat:
9
g
|
Saturated Fat:
4
g
|
Cholesterol:
15
mg
|
Sodium:
72
mg
|
Potassium:
217
mg
|
Fiber:
3
g
|
Sugar:
4
g
|
Vitamin A:
288
IU
|
Vitamin C:
42
mg
|
Calcium:
49
mg
|
Iron:
1
mg
---
Nutrition Facts
Sheet Pan Everything Cabbage
Amount Per Serving
Calories 117
Calories from Fat 81
% Daily Value*
Fat 9g14%
Cholesterol 15mg5%
Sodium 72mg3%
Potassium 217mg6%
Carbohydrates 7g2%
Protein 2g4%
Vitamin A 288IU6%
Vitamin C 42mg51%
Calcium 49mg5%
Iron 1mg6%
* Percent Daily Values are based on a 2000 calorie diet.
---
The post Sheet Pan Everything Cabbage appeared first on Grilling 24×7.
The BEST Pellet Grill Burger Recipe! | Smoked Burgers On Pellet Grill
This Pellet Grill Smoked Burger recipe is absolutely one of the best recipes for your pellet grill or pellet smoker this summer! I cannot wait to share this recipe with you as I smoke burgers on my NEW Camp Chef SmokePro SG30 Wifi! Come see for yourself here at Andersons Smoke Show! I am affiliate for Camp Chef. Sales made through my these links will result in commissions: If you are interested in this Camp Chef SmokePro SG30, check it out here: https://bit.ly/3uoB5Zz Don't start your cook off with a dirty grill or smoker! Get yourself a GOOD bristle-free grill brush like the ones sold by Grillaholics: https://www.grillaholics.com/?ref=AND… (Be sure to use coupon code SMOKESHOW to save 20%) The recipe that I'm about to share will change the way that feel about every burger you've had up until this point! Juicy! Tender! Smokey! Flavorful! These all all great descriptions, but the best is speechless! This is the best burger that I've made…. this is my version of the mr. beast burger! My burger recipe (ingredients based on 1lb of meat): – 1lb 80/20 Ground Chuck – 1 large egg – 1/4 cup Italian Style Panko Bread Crumbs – 1 tsp. black pepper – 1/2 tsp onion powder – 1/4 tsp garlic powder **Burger can be topped with bacon for an extra special experience!! Combine all ingredients in a large bowl and mix thoroughly. I smoked these burgers at 225F until they reach 145F. At this point I top with colby cheese and crank the grill up to 300F. Remove these awesome pellet grill burgers when they reach 155F and let them rest for a few moments. Served on a warm brioche bun and topped with melted Colby jack cheese! If you want to see more amazing recipes like this one be sure to like the video and subscribe to my channel! You'll see more of this NEW Camp Chef SmokePro SG 30 pellet smoker, pellet grills, and much much more! Be sure to comment below with and questions or suggestions. All comments are received! burgers on pellet grill, pellet grill burgers, smoked burgers, pellet grill hamburgers, pellet smokers andersons smokeshow woodwind wifi 24 camp chef woodwind wifi 24 anderson's smokeshow camp chef unboxing camp chef pellet grill pellet grill recipes #campchef #pelletgrill #cheeseburger
Big Mistakes Everyone Makes When Grilling Burgers
Burgers fresh off the grill just scream summer, don't they? Of course, what constitutes the perfect grilled burger is different for just about everyone. How pink do you like it in the middle? What toppings do you prefer? What seasonings do you like? One thing is universal, though: It's got to be high in quality. A summer cookout is usually casual and fun, but getting the burgers right is all business. Cook them wrong, or start with the wrong beef, and the fun atmosphere will dissipate quickly. So make sure that you avoid these big mistakes everyone makes when grilling burgers to make sure you keep everyone happy. #Burgers #Grill #Mistakes
This cook was years in the making. Inspired by cooks from @CPARKTX2 and @The Cen-Tex Smoker many many moons ago, I've had yakitori and onigiri on my mind,  for far too long. So, I dusted off The Japanese Grill book, checked out some other recipes, and got to work.
Onigiri, with miso butter.
Chix thighs with scallions, glazed with the yakitori sauce from The Japanese Grill book. Drumsticks glazed with an orange, soy sauce, yuzu kosho sauce. 
Shisito peppers, cherry 'maters.
Had a decent spread…  from bottom left – yakitori chix, 'maters, orange-soy-yuzu legs, shisito pepepers, 'shrooms with bacon.
All chased with a fair bit of sake
What a great meal! Relatively simple cook (the prep takes a little time), and the payoff is yuge. Would have eaten a bit earlier if I had fired up another cooker or two, but… lazy.
Caliqueen agreed that we need to do this more often. But, that may have been the sake talking.
By: caliking
Title: Japanese Grill night
Sourced From: eggheadforum.com/discussion/1228377/japanese-grill-night
Published Date: 07/25/21
Did you miss our previous article…
http://amazinghamburger.com/outdoor-cooking/ribs-take-wing/