Chesapeake Crab Butter Sauce
If you're ready to take your steak to the next level this Chesapeake Crab Butter Sauce is what you seek. Rich buttery crab with a hint of old bay spice make this sauce a must for your next special dinner.
Take your steak up a notch

Nothing like fresh Chesapeake crab meat smothered in butter with a hint of old bay. Back in the day as a restaurant chef this butter sauce was one of the most popular menu items. As much as I enjoy a good crab cake to go along with my steak this Chesapeake Crab butter sauce is even more decadent. The sauce pairs perfectly with any cut of steak from a filet Mignon to a juicy NY Strip. If steak isn't you cup of tea you can also serve this sauce over any type of fresh fish or even chicken breast.
What's the Best Crabmeat to buy?

Depending on where you live will dictate your options on what type of crab to use. Here on the east coast blue crab is the most commonly found. Fresh Jumbo Lump Crabmeat is obviously the gold standard but also the most expensive and elusive. Pasteurized Jumbo Lump is a little more economical and when simmered in butter it's hard to tell the difference between fresh and pasteurized. Lump, backfin and special are also options but they tend to get mushy when cooked in a sauce.
Other crabmeat like Dungeoness, king crab, snow crab or even lobster or langostino are also tasty substitutions for this sauce. I always recommend using what's local, fresh and the best value.
Pictured Fresh Maryland Jumbo Lump Crab
Be gentle with the Chesapeake Crab Butter Sauce.

One of the biggest mistakes when working with crabmeat is overworking it or busting up the lumps that you paid good money for. That's why I like to prepare the sauce first then gently fold in the crabmeat at the end and just barely warm the crabmeat. Crab is incredibly delicate and can be reduced to stringy mush quite quickly. All you need to do is warm the crabmeat because it is already cooked. Other raw shellfish like lobster or shrimp can handle more heat and cook longer in a sauce.
Don't Break the Butter Sauce.

When preparing any butter sauce you need to make sure that you reduce the heat before whisking in the butter. I add a tablespoon of butter just to sauté the shallots and garlic and then add heavy cream to add richness. Once the cream has reduced it's important to let the sauce cool so that there are no bubbles in the sauce. Then you can begin quickly whisking in the butter a few tablespoons at a time. The cold butter with thicken the sauce and prevent the butter fats from separating leaving you with a greasy oily sauce. If the does break you can start over because you haven't added the crabmeat yet.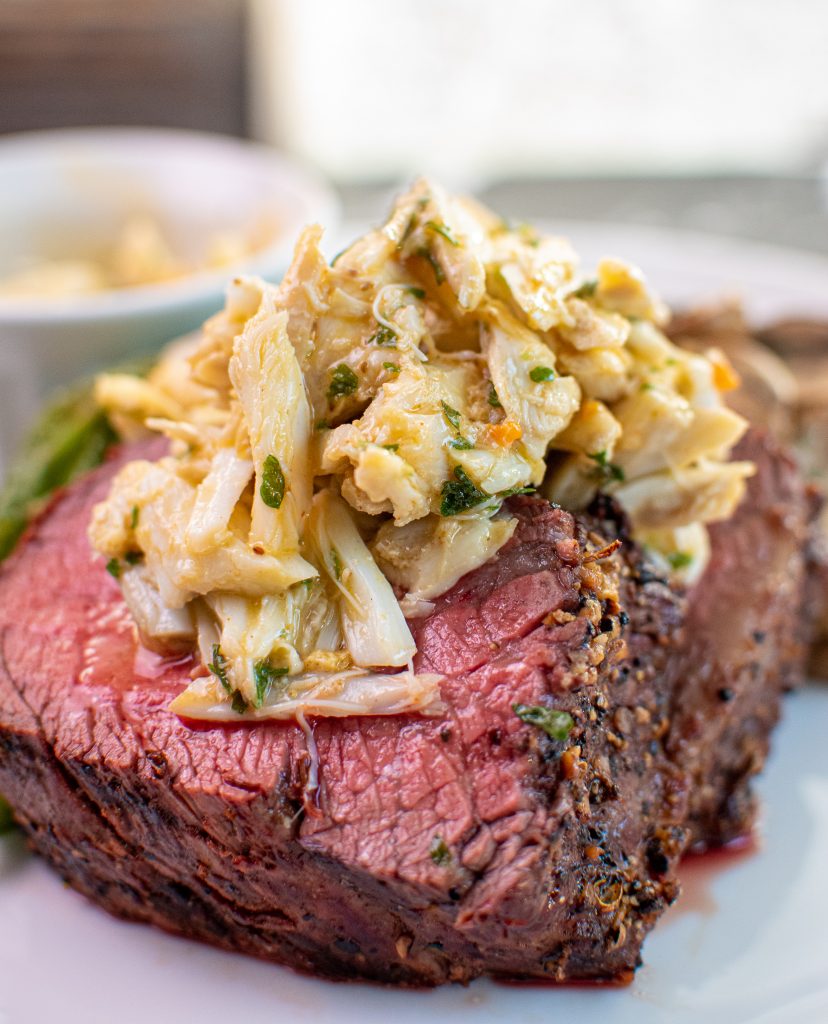 More Crabby Goodness
---
Chesapeake Crab Butter Sauce
Ingredients
1

lb

Jumbo Lump Crabmeat

1

Stick

Butter

2

tsp

Old Bay

1

tbsp

Fresh Parsley

1

tbsp

Minced Shallot

1

tbsp

Minced Garlic

1/4

cup

Heavy Cream
Instructions
over medium heat saute garllic and shallots in 2 tbsp of butter until garlic and shallots have softened. then add in heavy cream and reduce by half

Turn heat to low and then begin whisking in butter 2 tbsp at a time until the sauce is smooth. finally gently fold in the crabmeat, avaid breaking up the lumps as much as possible. finish off the sauce with the parsley. Sauce is complete as soon as the crabmeat is warmed. Do not raise heat or butter will seperate from the sauce
Nutrition
Calories:
180
kcal
|
Carbohydrates:
1
g
|
Protein:
11
g
|
Fat:
15
g
|
Saturated Fat:
9
g
|
Cholesterol:
64
mg
|
Sodium:
579
mg
|
Potassium:
129
mg
|
Fiber:
1
g
|
Sugar:
1
g
|
Vitamin A:
531
IU
|
Vitamin C:
5
mg
|
Calcium:
43
mg
|
Iron:
1
mg
---
Nutrition Facts
Chesapeake Crab Butter Sauce
Amount Per Serving
Calories 180
Calories from Fat 135
% Daily Value*
Fat 15g23%
Cholesterol 64mg21%
Sodium 579mg25%
Potassium 129mg4%
Carbohydrates 1g0%
Protein 11g22%
Vitamin A 531IU11%
Vitamin C 5mg6%
Calcium 43mg4%
Iron 1mg6%
* Percent Daily Values are based on a 2000 calorie diet.
---
The post Chesapeake Crab Butter Sauce appeared first on Grilling 24×7.
For the Best July Yet, 8 Great Recipes for the Grill
There's no better month than July in North America to grill or smoke. With Independence Day entertaining now in the rear-view mirror, you can now focus on what you want to grill, whether it be a Beer Can Breakfast Burger for your fishing or camping buddies, fiery Nashville Hot Wings for a tailgate party, or Grilled Key Lime Mojitos and Jamaican Jerk Chicken for an authentic Caribbean blow-out. Make this a month to remember.
Beer-Can Breakfast Burgers
Savory pork, bacon, eggs, and cheese on an English muffin—this high-energy breakfast will fuel summer adventures for hours. They'll be a hit in your back yard or at your campsite.
Get The Recipe »
Double-Grilled Summer Vegetable Frittata
Perfect for a weekend brunch or a weeknight dinner, this frittata features an array of grilled fresh vegetables that can change depending on what's in season. Add meat, if desired—ham, cooked bacon, or chorizo or other sausage.
Get The Recipe »
Nashville Hot Wings
Incendiary Nashville Hot Chicken "takes wing" in this live fire interpretation. The wings get a double blast of heat from hot red pepper flakes and a cayenne-inflected baste. Said to be invented by a woman eager to take revenge on her tomcatting partner, her plan to turn his favorite fried chicken into a fiery weapon failed when he unexpectedly loved the very spicy chicken.
Get The Recipe »
Grilled Key Lime Mojitos
One theory about the origins of mojitos is that indigenous South American peoples made a medicinal concoction from limes, mint, and fermented sugar cane. Although a Havana bar disputes that. In any case, Steven's version of a mojito, made with charred sugared limes, mint, rum, and club soda, will cure whatever ails you. Ernest Hemingway would approve.
Get The Recipe »
Cherry-Smoked Strip Steak with Cutting Board Sauce
If mastering the reverse-sear method of cooking thicker slabs of meat is on your bucket list this month, start with this recipe. (If you're unacquainted with the technique, it involves a low and slow smoke with wood chips or chunks followed by a quick sear.) New York chef Adam Perry Lang gets the credit for developing this easy complementary board sauce using chiles, herbs, and meat juices.
Get The Recipe »
Jamaican Jerk Chicken
Were you aware that spicy foods actually help a body handle heat by causing it to perspire? Just look at the repertoire of hot foods in the world; they're mostly from the steamier latitudes. Take Jamaican Jerk Chicken, for example. Steven's version is super-authentic. Cooked over pimento wood (or alternatives), it's a reason to party. Find pimento wood here.
Get The Recipe »
Grilled Swordfish Steaks with Golden Raisin Chimichurri
Line-caught swordfish is a summer staple in the Raichlen household. Though often served with grill-blistered cherry tomatoes and a green salad, Steven likes to mix things up by serving this meaty fish with a jewel-like chimichurri and golden raisins. Dinner party worthy? Hell, yes.
Get The Recipe »
Smoky Bourbon Peach Cobbler
This recipe, which came from our friend Russ Faulk, chief designer at Kalamazoo Gourmet, combines two Southern barbecue staples—fresh Georgia peaches and pecan wood. Ooops. Did we mention bourbon? Cooked in a cast iron skillet, it is a sublime example of cobbler and will wow summer guests. We've even been guilty of adding slivers of bacon to the filling. For more of Russ's recipes, check out his book Food + Fire.
Get The Recipe »
The post For the Best July Yet, 8 Great Recipes for the Grill appeared first on Barbecuebible.com.
Homepage Feature,Recipes,July Recipes,summer
By: Daniel
Title: For the Best July Yet, 8 Great Recipes for the Grill
Sourced From: barbecuebible.com/2021/07/06/8-recipes-for-the-grill-in-july/
Published Date: 07/06/21
Did you miss our previous article…
https://amazinghamburger.com/outdoor-cooking/pork-belly-burnt-ends/
Summertime Fresh Peach & Corn Salsa
Subscribe to our newsletter!
---
When peaches are in season you need to take full advantage and make this amazing Fresh Peach Salsa. The fresh Peaches are complimented by diced Roma tomatoes, red. onion, diced jalapeño and cilantro making this salsa a summertime staple.
When are Peaches in Season?
Peach season can vary depending on the climate and the cultivator but generally peaches are in season from as early as may through the end of August. For me here in Maryland peaches truly hit there peak around the 4th of July and can last into early fall if the weather stays warm enough. In Georgia the season is much longer due to is southern climate making it one of the nations largest producers of peaches.
The Peach was first introduced to Georgia by Franciscan Monks in the 16th century but after the civil war peaches became a huge crop in the south as farmers moved away from cotton. At its peach Georgia produced over 8 million bushels in 1928 due to the invention of the refrigerated railcar.
Can I use Frozen or Canned Peaches to make Peach Salsa
Sure, you can do anything you want but for optimal freshness nothing beats using peaches while they're at their freshness. If they're not in season look for frozen organic peaches as your best alternative option. I try to avoid using canned peaches for this recipe because they're normally packed in a overly sweet syrup and the texture can be mushy.
Why I use Sherry Vinegar
Sherry vinegar is the best bang for your buck in my opinion. Balsamic vinegar gets all of the headlines but you're probably not even getting true balsamic vinegar. Authentic balsamic vinegar is made from pressed grapes and must follow rigid aging standards. This makes it insanely exspecive (up to $200 for a 4oz bottle). most balsamic vinegar you find on the shelves is nothing more than a base vinegar with color and sweeteners added.
Sherry vinegar is produced in Spain and much like balsamic vinegar is made to very specific specifications. However sherry vinegar can be purchased for very reasonable prices and much closer resembles the traditional methods of preparation. Sherry vinegar is aged for a minimum of 2 years and some can be aged 50 years or longer. I use sherry vinegar for all of my salad dressings, marinates and sauces. I think it has a far superior flavor over comparably priced balsamic vinegar.
What to serve Fresh Peach Salsa with
Fresh Peach salsa can really be served with anything but I really enjoy it with grilled chicken or chilled shrimp. You can also heat up the fresh salsa and serve it warm over grilled pork chops. For parties I love to just serve peach salsa along side my favorite corn tortilla chips paired with fresh guacamole. It's a very versatile salsa that really is a great step up from more traditional varieties.
More Summertime Recipes
---
Fresh Peach Salsa
Ingredients
2

cups

Fresh Peaches

Diced

1

cup

Roma Tomatoes

Diced

1/2

cup

Red Onion

Diced

1/2

cup

Shaved Corn

1/4

cup

Chopped Cilantro

1/4

cup

Sliced Baby Bell Peppers

2

tbsp

Fresh Jalapeno

Diced

1

tbsp

Taco Seasoning

1

tbsp

Sherry Vinegar

1

tbsp

Olive Oil

1

tsp

Real Salt
Instructions
Remove the pit from the peaches and dice into small 1/4 inch pieces. Also dice your onions and tomatoes as well as chopping the cilantro and shaving the corn from the cob. Add all these ingredients to a large bowl

Add seasonings along with olive oil and sherry vinegar then fold until all ingredients are well coated. Chill for 30 minutes before serving. Will last up to one week in the fridge stored in an air tight container.
Notes
Serving size about 1/3 cup
Nutrition
Calories:
50
kcal
|
Carbohydrates:
8
g
|
Protein:
1
g
|
Fat:
2
g
|
Saturated Fat:
1
g
|
Sodium:
318
mg
|
Potassium:
179
mg
|
Fiber:
1
g
|
Sugar:
5
g
|
Vitamin A:
460
IU
|
Vitamin C:
8
mg
|
Calcium:
8
mg
|
Iron:
1
mg
The post Summertime Fresh Peach & Corn Salsa appeared first on Grilling 24×7.
Crispy Zucchini Fries w/ Vodka Sauce
Join us to Receive Keto Recipe Nivana!!
---
Whether its the peak of zucchini season or the dead of winter these Zucchini Fries with vodka sauce are a hit with friends and family alike.The crispy crunch of golden fried zucchini fries dipped in creamy homemade vodka sauce, what could be better.
How to Make Zucchini fries with Vodka Sauce
If we told you that fried foods can be healthy and still taste fresh and delicious, you wouldn't believe us… right? If you don't, then we'd bet our last Las Vegas chip that you've never tried zucchini fries before. What are zucchini fries? Our recipe takes tender slices of zucchini, hand dredged in tangy garlic and parmesan crumbs and deep-fried them to crispy perfection. 
These yummy fries are both creamy and crunchy at the same time, plus they count towards your daily serving of veggies! Tasty, carb-free and full of fiber… what's not to like?
And that's not all! Be sure to dip these babies into this creamy vodka sauce. Herby and fragrant with a sublime chilli kick, this sauce is simple to make and perfectly complements the crunchy mouthfeel of these divine zucchini fries.
Once you've polished off the fries, if you want to drink the vodka sauce straight from the dish, we won't tell anyone.
If you have friends coming over, these fries are perfect as a snack or an appetizer. Serve them with a few refreshing chilled beverages, or your favorite Brew, and you're all set for the night.
Fries and ketchup just got fancy, people.
What are Zucchini?
Zucchini (also known as a courgette) is a summer squash. It's got an extremely mild, fresh flavour and because it goes with everything it can be cooked a variety of different ways, whether grilled, roasted, sautéed or fried – you can even bake it into a cake or use it as a substitute for pasta. It's the swiss-army knife of vegetables!
Low in calories and full of fiber as well as vitamins A, B and C, zucchini are super healthy, so you can eat these tasty fries without the guilt.
When are Zucchini in Season?
Although zucchini are available all year round, they come into season in the summer, between May and August, depending on where you live.
Zucchini thrive in warm soil and air, and one plant can produce up to a staggering ten pounds of fruit in one season! That means you can make a lot of zucchini fries!
How to pick and store Zucchini
When buying zucchini from the store or market, always go for smaller ones as they are much more tender and flavoursome. Large ones tend to taste watery and bland, which is not what you want when making fries.Avoid wrinkled zucchini or ones covered in scratches and cuts; this is a sign that they are past their prime and won't taste as good.
The best way to store zucchini is to store them in your fridge in a plastic or paper bag. They'll keep for up to two weeks, although the skin may shrivel up a bit.Store your zucchini whole until you're ready to use them. Cutting them in advance will cause them to go stringy.
You can also freeze zucchini and they will keep for about three months. Slice them horizontally, boil them for two minutes and blanch them in ice water to help them keep their texture and colour. When you're ready to make your fries just take them out of the freezer, let them defrost, pat away the excess liquid and you're ready to go!
What is Vodka Sauce?
You may look at this recipe and go, "Hang on a moment, vodka sauce?! Wow, that sounds unusual!".
However, is it really not that weird? We use alcohol in cooking all the time to add extra flavor, from a splash of vermouth in a mushroom risotto or a glug of red wine in a spaghetti Bolognese.
Tomatoes and vodka are a classic flavor combination. They work really well together as the peppery vodka perfectly complements the sweetness of the tomato. Vodka also works to bring the heavy cream, parmesan and marinara in this sauce together, creating a heavenly flavor combination as well as a smooth and silky texture to dip your fries into.
And before you ask, the alcohol in the vodka is burned away when you simmer the sauce, so you can't get drunk off shots of vodka sauce. Believe us; we've tried.
How to deep fry using a Dutch Oven
Not all of us have the luxury of a deep fat fryer at home, but this shouldn't stop you from being able to create delicious deep-fried treats. We recommend using a Dutch oven to create these zucchini fries.
You may be used to searing meats and shallow frying in a Dutch oven, but you may be wondering how you can use one for deep frying. A Dutch oven is excellent for deep frying, as the deep walls will prevent potentially dangerous hot oil splashes, and the cast iron will help retain the heat for longer, meaning that you can fry in batches.
Heat your oil to temperature slowly and have a damp towel on hand in case of fire. Although these zucchini fries are incredibly delicious, we wouldn't want you to burn your house down for them.
How much Oil Should you use to fry?
We'd recommend using about three inches of oil and frying your fries in batches. As tempting as it may be to throw all of your fries in at the same time to save time, this means that they won't be as crispy, and nobody wants a soggy piece of zucchini as a snack.
You'll want your oil to be at the right temperature before you start frying, otherwise your zucchini fries will absorb the oil and end up greasy and soggy. A great way to tell that your oil is ready to go is by throwing a small cube of bread into your Dutch oven. If it crisps up, you're ready to start cooking!
You can use a variety of different utensils to take your fries out of the hot oil, from a strainer to a tong or slotted spoon. Of course, if you don't have a Dutch oven or you want these zucchini fries to be healthier you can oven bake them instead, but come on, where is the fun in that?!
What you Need For Safe Frying at Home.
More Tasty Veggie Inspiration
---
Vodka Sauce
Ingredients
1

cup

Marinara Sauce

1/2

cup

Heavy Cream

1/4

cup

Grated Parmesan

2

oz

Vodka

2

tbsp

Diced Onion

2

tbsp

Butter

1

tbsp

Chopped Garlic

1

tsp

Crushed Red Chili Flakes
Instructions
in a saucepan over medium low heat sauté garlic and onions in butter along with chili flakes until softened. Deglazr pan with vodka and reduce until the alcohol has burned off.

Add heavy cream to the sauce pan and reduce by half, then pour in the marinara sauce and grated parmesan. Once sauce begins to simmer remove sauce from heat. Blend sauce until smooth and serve.
Notes
Serving size about 1/4 cup
Nutrition
Calories:
118
kcal
|
Carbohydrates:
3
g
|
Protein:
2
g
|
Fat:
9
g
|
Saturated Fat:
6
g
|
Cholesterol:
31
mg
|
Sodium:
244
mg
|
Potassium:
125
mg
|
Fiber:
1
g
|
Sugar:
1
g
|
Vitamin A:
541
IU
|
Vitamin C:
3
mg
|
Calcium:
52
mg
|
Iron:
1
mg
---
Crispy Zucchini Fries
Ingredients
Instructions
Cut Zucchini into roughly 3 inch by 1/2 inch fries. Toss fries with salt and let them sit for about 30 minutes. Rince under cold water then pat dry with paper towels.

Prepare the egg wash by combining Eggs, milk, hot sauce and italian seasoning. Next prepare the flour dredge by combining flour, corn starch and seasonings.

In a large wide pot fill about half way with oil and heat to 350 degrees F.

Place a handfull of zucchini fries in the flour dredges and coat throughly then coat in the egg wash and finally back in the flour dredge. Ten carfully place the fries in the oil making sure not to overcrowd the pot. Fries will take about 4-5 minutes per batch.

As easch batch is done pace fries on the cooling rack and season immediately with salt. Reapeat this prosess until all fries are cooked.
Nutrition
Calories:
225
kcal
|
Carbohydrates:
26
g
|
Protein:
7
g
|
Fat:
12
g
|
Saturated Fat:
1
g
|
Cholesterol:
64
mg
|
Sodium:
973
mg
|
Potassium:
318
mg
|
Fiber:
2
g
|
Sugar:
3
g
|
Vitamin A:
305
IU
|
Vitamin C:
17
mg
|
Calcium:
71
mg
|
Iron:
2
mg
The post Crispy Zucchini Fries w/ Vodka Sauce appeared first on Grilling 24×7.